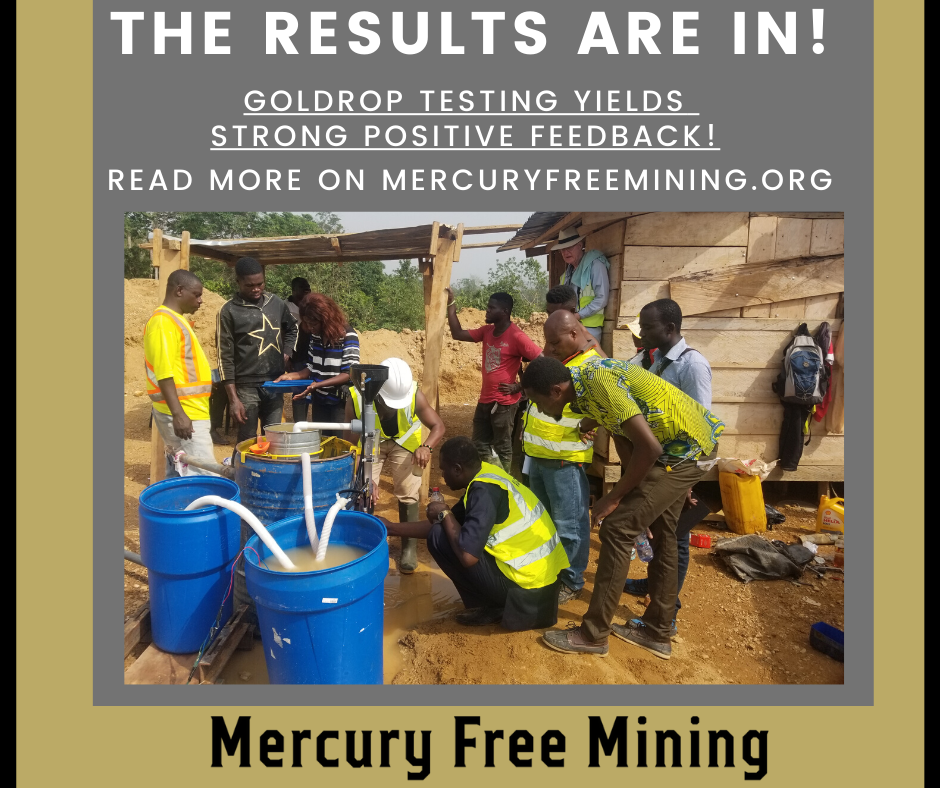 The Goldrop process was tested among small scale gold miners in Ghana, West Africa
Mercury-Free Mining, a nonprofit dedicated to eliminating the use of mercury in artisanal and small-scale gold mining, announced that field tests of Goldrop, a mercury-free gold separation process, proved positive enough to merit further testing and refinement. The testing took place among small-scale miners in Ghana, West Africa.
The Goldrop process offers hope for a safe alternative to toxic mercury, used by 15 million artisanal and small-scale gold miners around the world to separate gold particles from their surrounding mineral ore. Most of these miners, located in developing countries, depend on gold mining to survive. They rely on mercury as their access to a marginally efficient and affordable means to improve their gold separation effectiveness.
But mercury is a potent, permanent toxin that can poison the human body irreparably, causing neurological disorders, birth defects, and a multitude of other illnesses. Along with harm to miners and their communities, mercury enters into the atmosphere, and moves downstream from mining areas, through rivers, into the ocean, and into marine life. As an environmental contaminant, mercury is also exceedingly difficult to remove.
The Ghanaian Goldrop field test project participants included Mercury Free Mining; the Ghana National Association of Small-Scale Miners (GNASSM); and Sluice Goose Industries, Inc., creator of the Goldrop gold separating processor.
With the first tests producing positive results, Ghanaian technical experts now propose a visit to the Goldrop factory in Oregon to refine its effectiveness on various hard rock and alluvial ore matrix concentrates commonly seen at the country's small mining sites. "We will further test and help refine [Goldrop's] effectiveness on these concentrates, which we will provide," says GNASSM Technical Director Festus Adomako Kusi, who is a mineral engineer.
The proposed team members to attend are Kusi; Ismel Quaicoe, a lecturer at the University of Mines and Technology, Tarkwa, Ghana; and Peter Osei, a geologist and member of the GNASSM technical team.
"The Mercury Free Mining board of directors and I are enthusiastic about GNASSM's endorsement of the Goldrop processor. We're also encouraged by GNASSM's commitment to help refine the process," says Executive Director Toby Pomeroy, who traveled to Ghana in West Africa in January, at the invitation of GNASSM, to observe the testing of the Goldrop method on-site at four small-scale gold mining operations.
The Goldrop method had previously been tested by North American gold mining prospectors, who said the processor is significantly more efficient than traditional gold panning, which often uses mercury to separate gold from other heavy minerals, according to John Richmond, the inventor of the process.
Goldrop uses elutriation technology instead of mercury, which is a process for separating particles based on their size, shape, and density. It flows gas or liquid in a direction opposite to the direction of sedimentation to achieve gold separation.
"Mercury Free Mining's mission helps to protect the integrity of the gold supply chain, which is vital to ensuring the public's trust in our precious products," says Bill Boyajian, chairman of the nonprofit's board. "But more than anything else, we must eradicate the use of mercury from polluting our waters and the very air we breathe in order to protect all life on our planet. Please join us in this critical effort."
Founded in 2017, Mercury Free Mining is a 501(c)(3) tax-exempt non-profit whose purpose is to eradicate the use of mercury in artisanal and small-scale gold mining (ASGM) and ensure the public trust in the jewelry industry gold supply chain. To learn more or make any size donation to this industry-wide initiative, visit https://mercuryfreemining.org/.
##
For more information, contact:
Toby Pomeroy
toby@mercuryfreemining.org